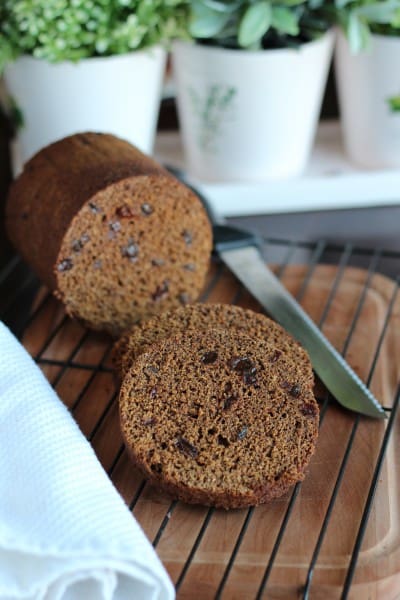 January has rolled around and the #BreadBakers are busy again in our kitchens, won't you join us? We are starting on a healthy note, following Anshie's lead and baking with RYE. Rye flour was previously not in my pantry but I learned that I should bake with it more often. Rye is high in fiber, a good source of magnesium as well as a host of other nutrients. For a rye bread to share today, I settled on this recipe for Boston Brown Bread from the Epicurious site.  It's a unique bread steamed in a tin can such as a coffee container. Now I've seen episodes of cooking shows where the contestants are given a mystery ingredient of "bread in a can" and then challenged to create a tasty dish. I was concerned that baking bread in a can on purpose might not have a great result but I was happily proved wrong. There were many recipes online and nearly all had the same ratio of one part each of rye flour, whole wheat flour and cornmeal. A quick search for a history lesson taught me that rye and cornmeal were more widely available at one point and so bakers came up with this mixture of flours for their breads. Tins were a readily accessible vessel and steaming the dough was a method that home bakers could master.
One challenge for me was finding a coffee tin (or any other tin!) that was made from metal– so many of our goods are stored in sturdy cardboard containers. I thought I had come across a bit of luck when my relatives who were visiting from England brought some treats and one was a tall tin of crackers. I wrongly assumed this was a metal tin and didn't realize my error until I had my ingredients mixed and ready to go. I proceeded anyway and had no major failures but I would suggest to wrap the bottom half of such a cardboard container in tin foil first to provide a barrier between the water and the cardboard. It was fun to have this round, cylindrical bread for a change. I am looking forward to fellow #BreadBaker, Mireille's recipe for Boston Brown Bread in a slow cooker. Her recipe is listed below and I think a slow cooker would be a good method for this slowly steamed bread. Is Boston Brown Bread familiar to most of you? I've love to learn if this is mainly a New England specialty or if its popularity has spread.
Ingredients
1 tablespoon unsalted butter for greasing
1/2 cup rye flour
1/2 cup whole wheat flour
1/2 cup cornmeal
1 teaspoon baking soda
1/2 teaspoon salt
1/3 cup dark molasses
1 cup milk
1/2 cup raisins
Instructions
Preheat oven to 325 degrees F. You'll need a tin can like a 1-pound coffee can or other similar vessel. Also you will need a deep pan suitable for baking into which you'll put the tin can while it bakes.
Spray the tin can with baking spray. If your can is not made of metal cover the bottom half of it with aluminum foil.
Gently whisk the rye flour, whole wheat flour, and cornmeal, as well as the baking soda and salt. Mix in the molasses and milk then add the raisins.
Pour the batter into the mold. Cover the top with aluminum foil and secure with twine.
Put your filled can into a deep baking dish in the oven, then take boiling water and pour it into the dish a few inches deep. *Note-- it is easier to fill the dish with water while the dish is in the oven RATHER than filling the dish on a counter top and walking with the boiling water filled dish to the oven.
Bake for two hours. The recipe suggests letting the bread sit for an hour then unmolding but I chose to unmold after about ten minutes. If the bread has pulled slightly away from the sides of your container you should be fine to empty it out to cool. I did this since my container was made of cardboard rather than metal and I didn't want the wet cardboard touching the bread as it cooled.
Notes
Source: Epicurious http://www.epicurious.com/recipes/food/views/Boston-Brown-Bread-104112
http://www.abakershouse.com/boston-brown-bread/
Tangzhong Rye Bread by Stacy at Food Lust People Love
Sourdough Rye Bread by Ansh at Spiceroots
Potato Onion Rye Meteil by Karen at Karen's Kitchen Stories
Swedish Rye Bread (Limpa) by Nicole at The 2nd 35 Years
Rye Fennel Crackers by Renee at Magnolia Days
Caraway Rye Crackers with Reuben spread by Jenni at Pastry Chef Online
Artisan Dark Rye Bread by Cindy at Cindy's Recipes and Writing
Chocolate rye bread by Rocio at Kidsandchic
Pain d'Epice by Laura at Baking in Pyjamas
Danish Rye Bread by Wendy at A Day in the Life on the Farm
Hapanleipä – Finnish Sour Rye Bread by Robin at A Shaggy Dough Story
Banana Rye Muffins by Adam at Bakers and Best
Boston Brown Bread by Holly at A Baker's House
Rye and Whole Wheat Bread by Kelly at Passion Kneaded
Slow Cooker Boston Brown Bread by Mireille at Chef Mireille's East West Realm
#BreadBakers is a group of bread loving bakers who get together once a month to bake bread with a common ingredient or theme.  Follow our Pinterest board right here. Links are also updated each month on this home page.
We take turns hosting each month and choosing the theme/ingredient.
If you are a food blogger and would like to join us, just send Stacy an email with your blog URL to foodlustpeoplelove@gmail.com.