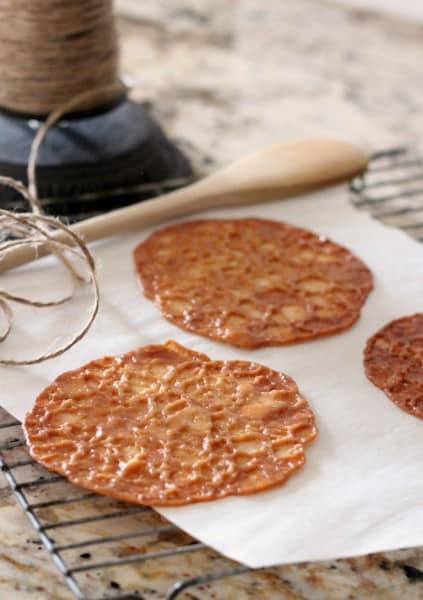 Do you have a favorite food magazine that you look forward to each month? I do– Cooking Light! I've had my subscription for years beginning with my first year after college graduation and the realization that I had to start cooking for myself. I've learned technique, meal planning strategies and flavor pairings as I've read through too many issues to count. Cooking Light magazine is always filled with recipes that I want to try and their May 2014 issue is no exception. I spotted this recipe for hazelnut lace and took the suggestion included in the recipe to try it as almond lace with a few easy ingredient substitutions. These "cookies" (for lack of a better word) are a wafer-thin nut brittle-like sweet that delicately breaks with a slight crunch in your mouth and you are left with a toffee flavor combined with a hint of amaretto. Pair it with an afternoon cup of tea and you will wonder why you've never made these before! With Easter, Mother's Day, bridal showers, baby showers, and after teas all ready for spring time celebration, you'll have no shortage of reasons to make this almond lace.
Ingredients:
1/3 cup packed brown sugar
2 tablespoons unsalted butter
1 tablespoon canola oil $
1 tablespoon Amaretto
1/4 cup almond meal
2 tablespoons cake flour (I used all-purpose)
1/8 teaspoon salt
 Recipe from Cooking Light May 2014 issue. Please click through for full instructions.