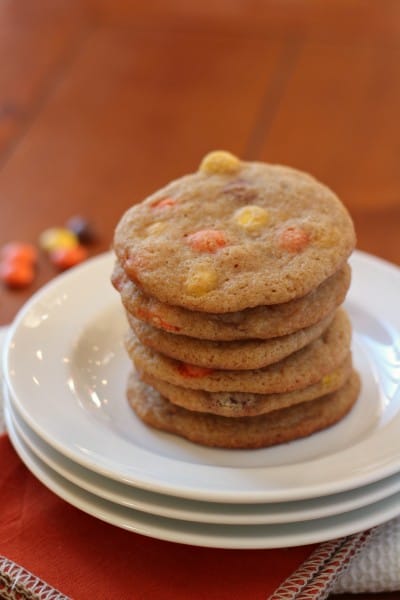 Drop Cookies are the baking theme this month for the #CreativeCookieExchange  and we have a variety to offer you today. Drop cookies get their name from the easy way the cookie dough is transferred onto the baking tray. Rather than cutting out with cookie cutters or rolling into little balls of dough, this is effortless baking where you simply drop the dough onto baking pans and slide them into the oven. I like to use two spoons– one to scoop the dough out of the bowl and the other to push the dough off the spoon onto the pan. I've seen baking gadgets like cookie scoops that might help this process too.
I'm thinking ahead to Halloween candy with these Reese's Pieces cookies. You start with King Arthur's basic drop cookie recipe and you add your favorite Halloween candy to the dough– chunks of Snickers bars or Milky Ways, Almond Joys or M & M's. Of course these would be perfect with good old chocolate chips but add a Heath bar into the mix and you've got something special!
I did not change the King Arthur recipe at all so please click through to their site to view their recipe. I added a cup of Reese's Pieces to the dough. The only different approach I'd take next time would be to double the recipe. These disappeared way to quickly!
You can also use us as a great resource for cookie recipes. Be sure to check out our Pinterest Board and our monthly posts (you can find all of them here at The Spiced Life). You will be able to find them the first Tuesday after the 15th of each month! Also, if you are looking for inspiration to get in the kitchen and start baking, check out what all of the hosting bloggers have made:
Only 4 days left in this month's giveaway for a $25 Whole Foods Gift card. Enter HERE!